Useful Tech @ Disney
I spent three days with my sister and her two daughters at Disney recently. To be specific. We were in Disneyland. You know. The one in California, not Florida. When I told my friends we were going on this trip there was a mixed response of fear, concern and laughter. What about the crowds, the lines, the creepy characters in costumes, the lines, kids whining, the lines, the stomach rumbling rollercoasters, and...the lines?
I embraced the challenge with an eye toward using technology to make the adventure interesting and fun for all of us. I had not been to Disney in over 30 years, so I had to do my research.
The Disney App
Disney has definitely got the smart phone app figured out. Get it!
Disneyland App
DisneyWorld App
Create an account and start adding your vacation information. We stayed at a Disney resort and that made the app experience even better. There are interactive maps of the parks, you can schedule meal reservations, your park tickets are on the app, you can find any character in the park your kids (or you) want to see and the list goes on.
Here are a few tech highlights from our trip to Disneyland:
McDonald's Mobile Order Curbside
You've been driving on the highway for all of 15 minutes and the kids are already hungry and asking "how much longer?" Have your navigator take out their smart phone and tap on the McDonalds app. Find the closest location. Tap to get driving directions. While the app is "talking" to the driver, the navigator enters all the food orders into the app. Don't forget to get some fries for yourself. When you arrive, pull into the Mobile Order parking space and enter 3 on the app to check in. A person with the power to silence your children with a Happy Meal will arrive. Tip them generously and be on your way.
The PhotoPass on the Disney app is a terrific way to get professional photos of your family taken all over the park. The app helps you figure out where the photographers are located throughout the park. The photographer takes your photo with a character or an iconic backdrop like Sleeping Beauty Castle behind you. They scan your PhotoPass barcode from the app on your phone. In less than 30 minutes the image is on your phone and viewable within the app. We were able to download these photos to our phones to keep forever. TIP: Some photographers will work their Disney magic and add characters to the images digitally.
Old smart phones (iPhone or Android)
Many of us have old smart phones lying around gathering dust. Reuse those phones as cameras for the kids. Turn on Parental Controls for the little ones. We locked down all the apps on two iPhones, turned off cellular and WiFi and gave each girl their own "camera" for the trip. Kids will take the most unusual photos during your vacation if you outfit them with a device that can take photos and video. Plus, they'll feel like they contributed to the show and tell presentation you'll inevitably give to your friends and family. Who knows, you might have a budding photographer in the family!
Finding your favorite characters or character stalking, as I like to call it, is easy with the Disney App. I'm convinced each character has a GPS tracker on their costume. Via the app you can figure out where Mickey is hanging out, see if Ariel, Cinderella or Tiana are walking around the park, or better yet, find Chip 'n' Dale before your kid has a meltdown.
Line wait times are the biggest hassle of being at Disney. Planning is a must. The Disney App helps you make ride decisions before you walk or run all the way across Disney only to find out the line is an hour long. We also used an app called Touring Plans. Fire up the these apps and they can help you see how long it takes to get on The Matterhorn or Pirates of the Caribbean. They'll tell you what days of the year and week are most crowded. Touring Plans also helps you create a ride itinerary based on the wait times. These apps allow you to head over to Thunder Mountain where there may be a much shorter line, which makes for much happier kids (and adults).
FastPass
We purchased the Disney MaxPass, which gave us the FastPass and the PhotoPass. This is another "get it" recommendation. Why? The shear amount of time you save is incredible. Plus, you know your kids don't understand why they have to stand still for 45 minutes to get on a 7 minute ride. Don't hesitate to use the FastPass, especially if your kids are at the age and height to ride the big rides (We called them E Ticket rides 30+ years ago). And, Disney makes it a snap to use from their app.
Tap the FastPass on your Disney app. Look at what rides are available at what times. Tap the ride you want. Get approved. Head over to the ride at the appropriate time and enter the FastPass lane. FastPass provides you with a one hour window to use your FastPass for available rides. So, when you tap to choose the Indiana Jones Adventure, note the timeframe you can use your FastPass - usually it's 1-2 hours later in the day. When that time arrives, you have one hour to use the pass. Head over to Indiana Jones Adventure. Go to the FastPass lane. Pull out your Disney app. Tap FastPass. Get the barcode for the Indiana Jones Adventure FastPass and scan it at the entrance. At this point, there is a rush of glee as you walk past the people standing in the regular line. You feel like a real VIP zipping to the front of the line. The longest wait we had was 20 minutes. That was a breeze compared to the regular line that was winding all the way over to the Pirates of the Caribbean.
iCloud Photo Sharing
If your family is an iPhone family, tee up a shared album. Everyone is going to be taking pictures. Wouldn't it be great to have all the photos from everyone in one place for viewing? My sister and I created an album and shared it with our parents back home so they could see our photos and video and live vicariously through our trip. Here's how to create an iPhone shared album.
Tap Photos. Tap Shared at the bottom of the screen. Tap the + icon in the upper left of your screen. Type in a name for your shared album - Disneyland 2018. Tap Next. Type in the email addresses of your family and friends. Tap Create. At the end of your day, tap Photos. Tap Albums. Tap Camera Roll or All Photos. Tap Select. Tap the photos you wish to share. Tap the share icon (looks like a square with an arrow pointing up). Tap iCloud Photo Sharing. In the Shared Album area tap to find your Disneyland 2018 album and tap. Tap Post. What's great is that weeks later I can continue to enjoy all the images from our trip -- sometimes finding out that my sister takes some rather odd photos. But that's another story. . .
FuelRods
With all this use of your smart phone at Disney, it's easy to start to worry about your battery life. Where will you recharge? How many external battery chargers do you need to carry around the park? The answer is simple: FuelRod. A FuelRod is just like any other external battery charger for your smart phone (iPhone and Android). But, you can get as many FuelRod replacements for free at the Disney parks. Yes, I said as many as you want for free! Disney has adopted the use of FuelRods throughout their parks. There are maps to FuelRod stations at Disneyland and DisneyWorld. I plan to give my FuelRod to a friend headed to Disney later this year. No sense in her buying one. My sister and I each purchased one. We both used our phones quite a bit and found the amount of charge was good and the ability to swap at convenient locations, including our hotel, made the process easy. The girls even got excited when we had to swap a FuelRod.
A few other smaller Disney tech suggestions:
Hotel WiFi: Take advantage of the hotel WiFi to save on data charges.
Hotel power and USB ports: Our hotel had the most power and USB ports I'd ever seen at a hotel. Make sure you have enough. Take a USB powered hub with you to make sure all your devices are charged and ready for the next day.
Look for interactive games: Some of the "Lands" have interactive games like the Star Wars area of Tomorrowland. When everyone needed a break, this was a great place to cool down and sit while the kids continued to be entertained.
Ride photos: Keep an eye out for rides that take your photo. We're still laughing at our first Space Mountain photo compared to the one taken on the last day at Space Mountain. (See below if you want a laugh).
Heads Up! We loved playing the Heads Up! game on our iPhone while waiting in line for Disneyland to open in the wee hours of the morning. To my surprise, the 99 cent Disneyland set of cards was free because it knew I was at Disneyland.
Airplane movies: When all is said and done and you're heading home, treat yourself to an in-flight movie. You deserve it after three days at Disneyland. TIP: Look for power under your tray table or seat to keep your smart phone or iPad charged.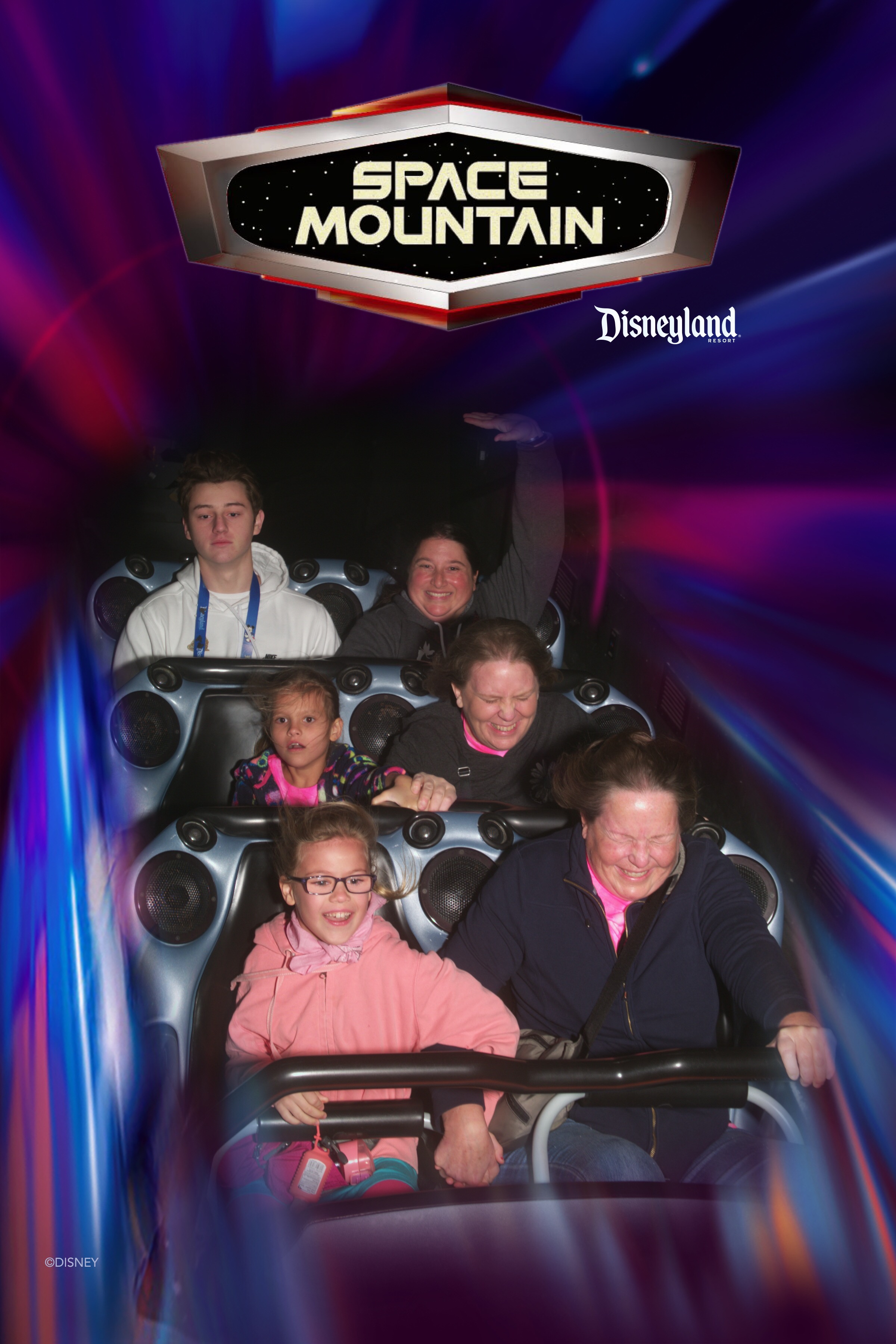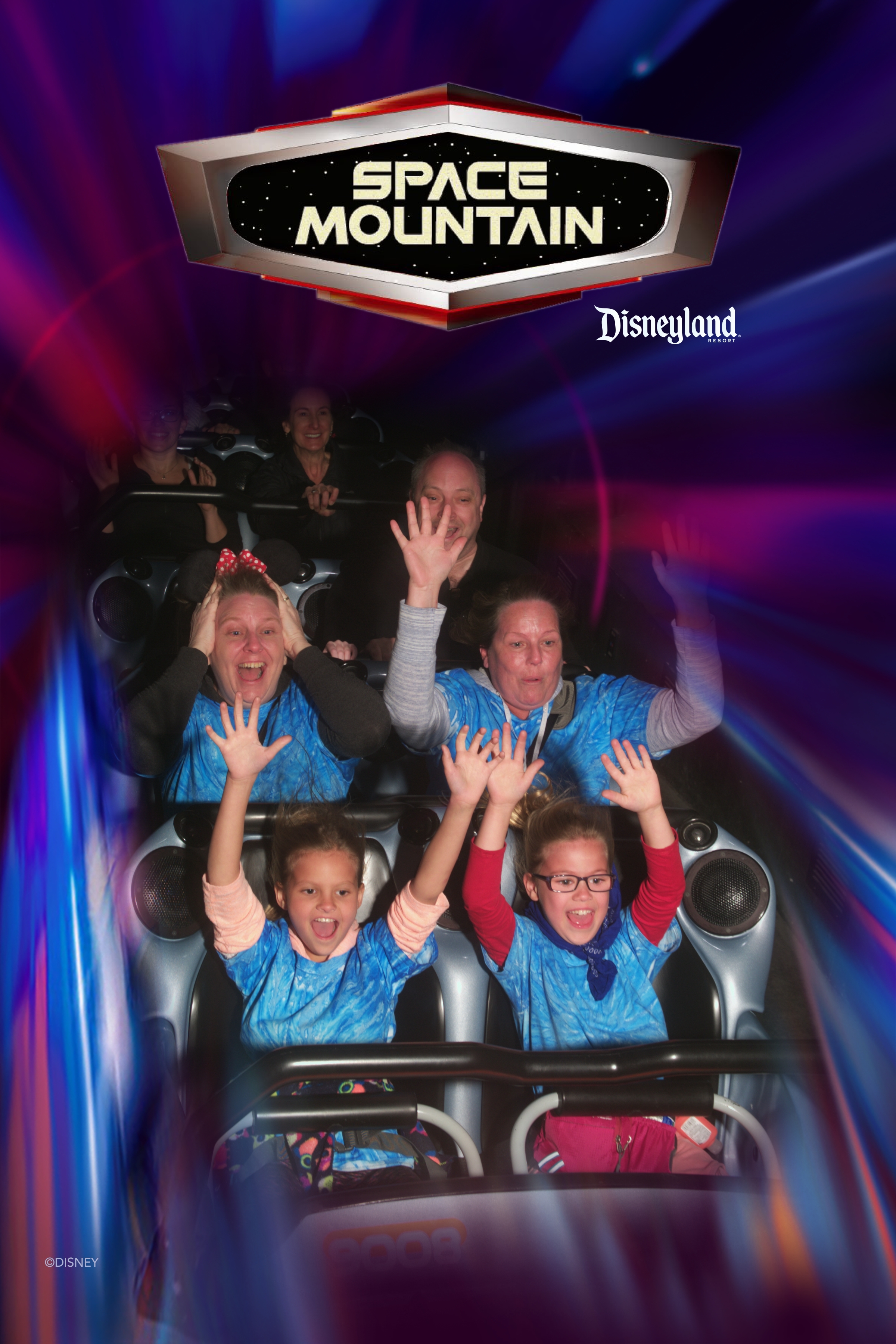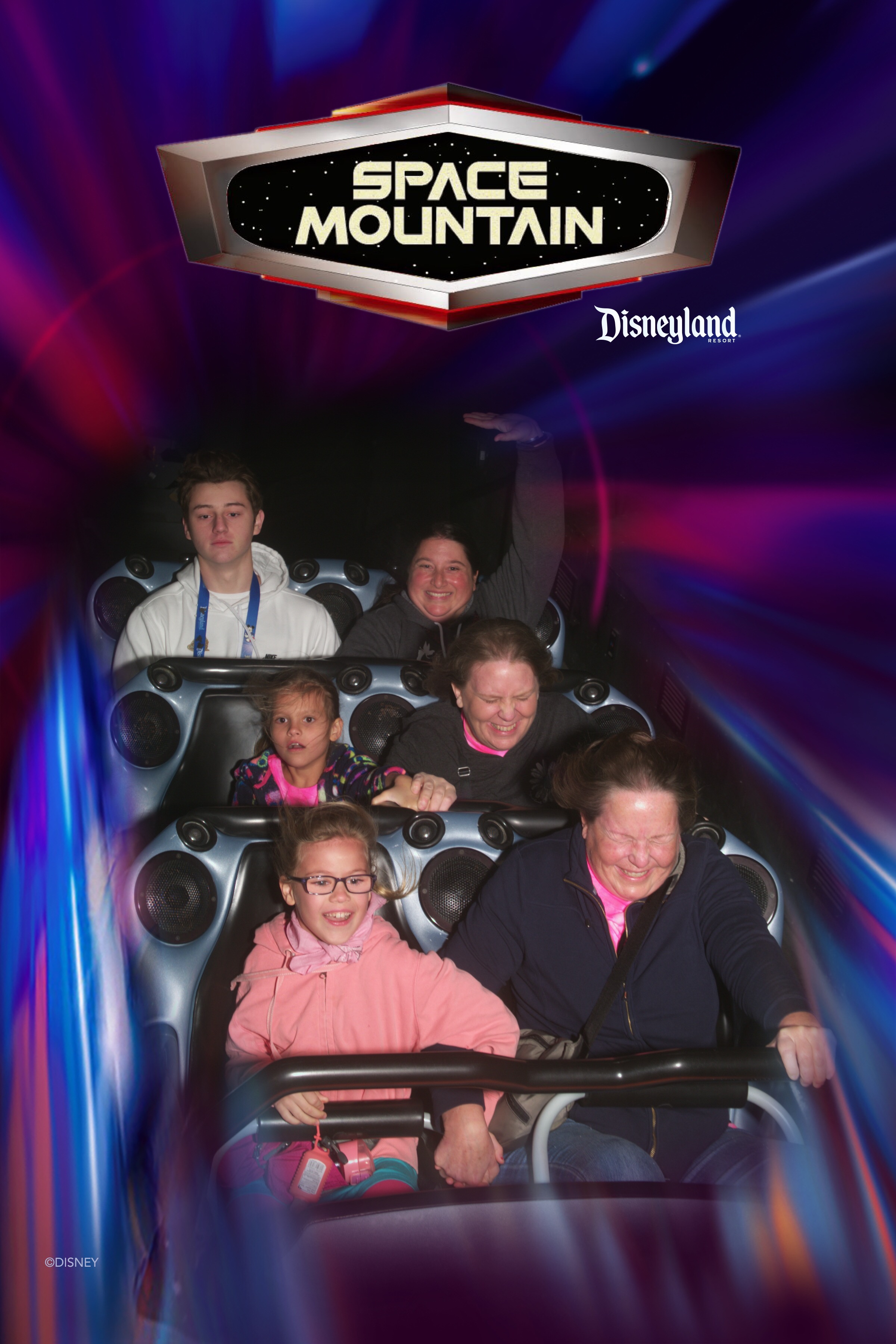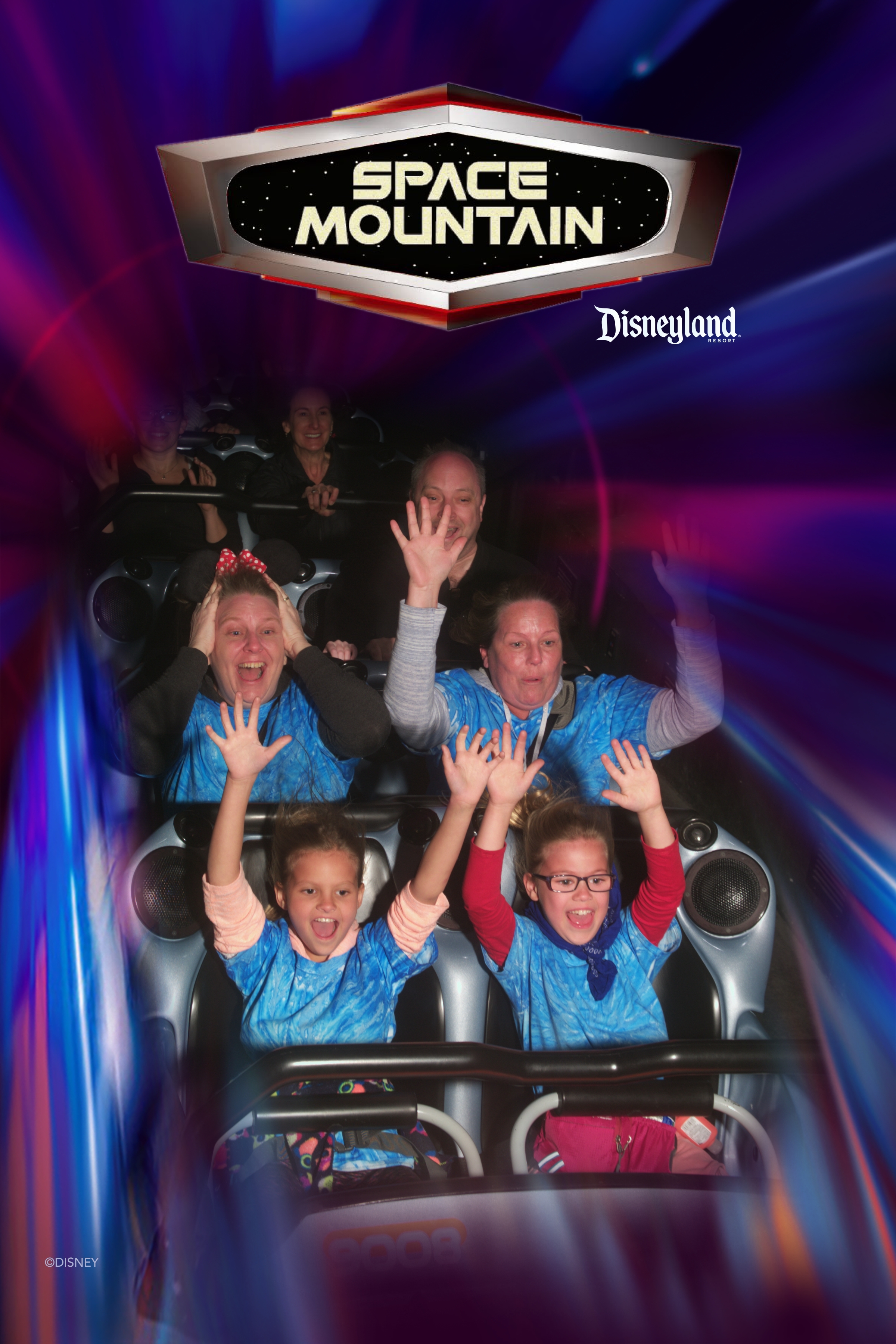 No matter what, embrace the chaos that is Disney and enjoy every minute of your adventure with the kids. A little tech and a little planning will make for a happy family vacation.